Villa Layout
Villa Wang Nam Jai's bedroom, living and dining pavilions are arranged around central terraces that stretch across the villa grounds over two floors.  At the front of the top terrace is the living room pavilion, while behind is a large two-storey pavilion with the dining room and kitchen on the ground floor and the fabulous king-bedded master suite above.  Opposite the living pavilion is a large cushioned sala that makes a perfect place for a massage.  The 22-metre pool is set on the lower-level terrace, which also boasts a barbecue dining area.  The media room is next to the pool while a short walk along the jungle boardwalk leads to more pavilions housing the three guest bedrooms and the fitness room.
Floorplan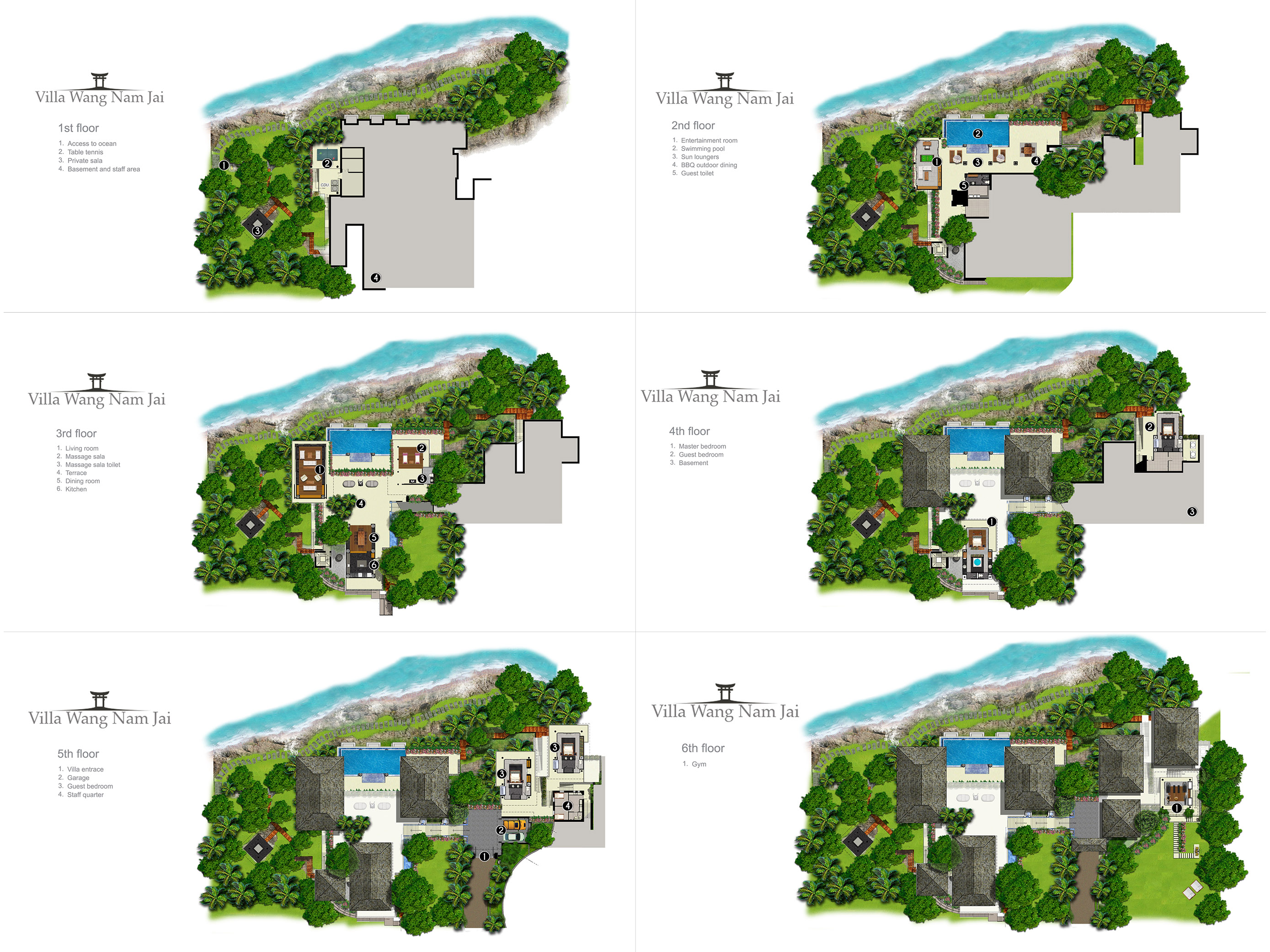 Download in high resolution
Living areas
Indoor living
With two sets of soft sofas, the villa's living room is a comfy spot to relax and take in the views through three sides of floor-to-ceiling glass that open completely to connect to the tropical surrounds.  In a separate pavilion, just steps away, is the bright and elegant dining room with its square table for eight.  Just behind is a modern kitchen where the skilled chef prepares delicious meals.
On the level below, alongside the pool terrace, is the media room with a modern home theatre and sound system, plus shelves of books and a foosball table to keep everyone entertained.
The fitness room is in a hideaway pavilion at the top level, just beyond the guest suites.  This small yet luxurious room is equipped with free weights, yoga mats and a sound system, with inspiring views to take in while working out or relaxing.
Outdoor living
Villa Wang Nam Jai's pool terrace, with its 22-metre swimming pool, barbecue area and sofas, offers plenty of space, shade and sunshine for all.  Sunbeds and umbrellas line the pool's length, with room left over to fold out the table tennis for a ping-pong match.  Upstairs is another wide terrace with lounging furniture positioned to best enjoy the views and a large sala in the corner that's perfect for a shaded read or massage.  A jungle path leads down from the villa to the rugged shoreline.
Bedrooms
Master suite
Set on the top floor of a large pavilion overlooking the villa's impressive upper terrace, Wang Nam Jai's master suite is a lavish sea-view haven with a king-sized bed under a peaked wooden ceiling.  Sliding doors open to a private balcony with a pair of polyrattan chairs, while the room's ensuite bathroom features a huge terrazzo bathtub.  A golden wall behind the bed and angelic statues from Northern Thai mythology add cultural flair to this modern suite.
Guest Suites
Three guest suites are set at different levels over the hill in two separate pavilions, each with glorious sea views, king-sized beds, a wall of fitted teak wardrobes and large ensuite bathrooms with tubs.  Behind the bedheads, partition walls feature a fresco of a calming Buddha face, and a pair of armchairs offer a comfortable lounging spot inside or out.  Each room is a haven of peace and privacy.